I will lift up the chalice of salvation and call on the name of the Lord.
September 16, 2006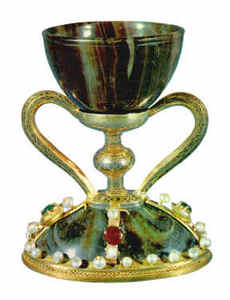 Twenty–Third Saturday of the Year II
Memorial of Saints Cornelius, Pope, and Cyprian, Bishop, Martyrs
1 Corinthians 10:14–22
Psalm 115:12–13, 17–18 (r. 17a)
Luke 6:43–49
The Cup of the Lord
"You cannot partake of the cup of the Lord and the cup of demons. You cannot partake of the table of the Lord and the table of demons. Shall we provoke the Lord to jealousy? (1 Cor 10:21–22). It was not uncommon in Corinth for food and drink offered to idols in pagan rituals to be consumed in the banquet that followed. Saint Paul makes it clear that idols, in themselves, are nothing; he also makes it clear that demons stand behind them. "What pagans sacrifice they offer to demons and not to God. I do not want you to become partners with demons" (1 Cor 10:20). One who partakes of food and drink offered to idols becomes an accessory to the sin of idolatry and opens oneself to the powers of darkness that lurk behind the idols fashioned by men.

Idols
The outward form of idols may change, but the sin of idolatry remains a temptation in every culture and time. The way of paying homage to idols may change, but homage to idols is a sin that threatens us today as much as it threatened the Corinthians of the first century. The powers of darkness continue to lurk behind the idols man creates for himself. It is still possible to become, as Saint Paul says, "partners with demons" (1 Cor 10:20). In the Litany of the Most Precious Blood we pray, Sanguis Christi, victor daemonum, salva nos! Blood of Christ, which overcame the powers of darkness, save us!
From the Altar to the Altar
Participation in the Most Holy Eucharist obliges us to continual conversion and to growth in purity of heart. One who lives from one Holy Mass to the next will necessarily grow in holiness if he says to himself at every moment: "I have come from the altar and I am returning to the altar." "Then I will go to the altar of God, to God my exceeding joy" (Ps 42:4).