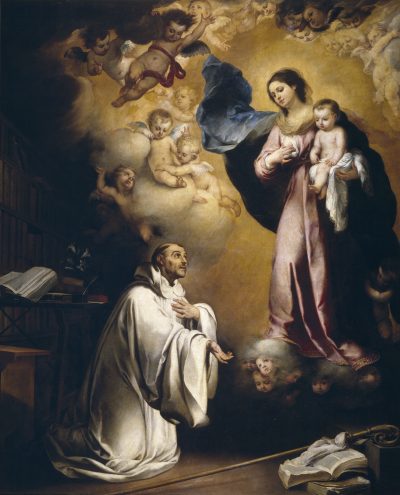 26 Jan. 27 May. 26 Sept.
The first degree of humility, then, is that a man, always keeping the fear of God before his eyes, avoid all forgetfulness; and that he be ever mindful of all that God hath commanded, bethinking himself that those who despise God will be consumed in hell for their sins, and that life everlasting is prepared for them that fear Him. And keeping himself at all times from sin and vice, whether of the thoughts, the tongue, the hands, the feet, or his own will, let him thus hasten to cut off the desires of the flesh.
In yesterday's appointed portion of Chapter VII, Saint Benedict gave singular importance to Psalm 130 with its image of a little child on its mother's breast. Spiritual childhood is a Marian grace; one who abandons himself unconditionally to the maternal heart of the Blessed Virgin Mary will be converted and become as a little child.
Amen I say to you, unless you be converted, and become as little children, you shall not enter into the kingdom of heaven. (Matthew