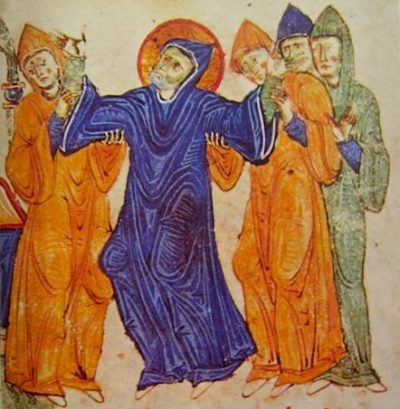 In place of the commentary on the 12th Degree of Humility that I gave extemporaneously in Chapter  this morning, here is the text of the conference that I gave in Warsaw last August. It addresses the mystery that informs the 12th Degree of Humility: union with Our Lord, the Christus Passus, in the mystery of His death.
+++
The Mystery of Divine Providence
Five years ago, in July 2011, I translated an extraordinary page, «On the Spirit of Saint Benedict», from the writings of Catherine Mectilde de Bar. Mother Mectilde offers her readers a sublime piece of writing and, at the same time, certain passages are hard to understand without entering into the 17th centuary Benedictine's mind, and into her vast spiritual culture, shaped principally by the liturgy, by Sacred Scripture, by the Rule of Saint Benedict, and by her many exchanges with other God–seeking souls of le grand siècle.
I cannot help but admire ceaselessly the adorable Providence of a God who is infinitely wise and ineffable in His conduct, for having chosen religious of the great Patriarch Saint Benedict