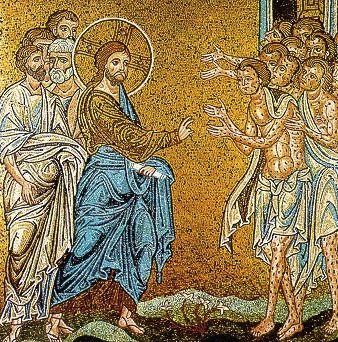 Sermon given at Silverstream Priory
Thirteenth Sunday after Pentecost
19 August 2018
Today, we entered into Holy Mass to the sound of a most piteous appeal to God:
Have regard to thy covenant, and forget not to the end the souls of thy poor: arise, O Lord, judge thy own cause, and forget not the voices of them that seek Thee.(Psalm 73:20, 19, 23, Introit of the 13th Sunday after Pentecost)
The verse of the Introit gave us the opening of the same Psalm 73. It is a question addressed to God. This is a form of prayer that each one of us makes in life's hours of uncertainty or when the things that befall us seem to make sense at all.
O God, why hast thou cast us off unto the end: why is thy wrath enkindled against the sheep of thy pasture? (Psalm 73:1)
Even in the life of the Church, there occur events that compel us to cry out to heaven, asking, "Why?" One ought never shrink from honest prayer. Honest prayer includes putting questions to God. Anyone even slightly familiar with the Psalms