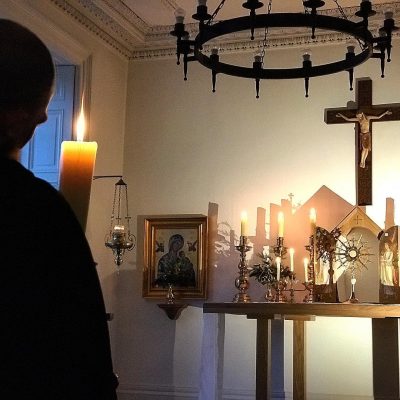 The devil fears a single hour of adoration more than ten sermons. Adoration is an act of faith; it proceeds from faith and causes an increase of faith in the soul, rendering the one who adores capable of great works of healing, reparation, restoration, and reconciliation. The works of faith of one who adores are characterised by hiddenness, silence, and humility, but they are no less real than the works that attract the attention of many and are done in full view of a world eager to see signs and quick to put Me to the test.
For you I have chosen the way of hiddenness. Come to Me in faith and I will act. Offer Me the simple faith of your adoration, and I will work miracles of grace in souls of my own choosing and, especially, in the souls of My priests, for whom you have offered your life here.
I call some to preach, others to teach, others to appear before great multitudes in My Name, and still others to heal and cast out demons. I have called you to the imitation of My hidden life in the Most Holy Sacrament of the Altar. In how many churches am I forsaken? In how many tabernacles am I hidden, alone, and forgotten? I do in these tabernacles what I do in the heavenly sanctuary beyond the veil: I stand before My Father as the Beloved Son and as the Eternal Priest; I offer Myself to Him in an unending sacrifice. I bear in heaven the wounds that I received in My Passion on earth. These same wounds radiate from My Body in the Most Holy Sacrament of the Altar.
One who approaches Me in the Sacrament of My Love exposes himself to the healing radiance of My wounds. My wounds radiate from every tabernacle on earth, offering pardon, mercy, and healing to sinners; pleading for them in My Father's sight; and sanctifying those who tarry in My presence. All of this takes place in an altogether hidden way, and in a great silence. The humility of the sacred species veils My presence and My action, but neither diminishes the one nor affects the other.
I am in the Sacrament of My Love as I was in My life on earth: as I was in every moment of My Passion; as I was in the agony of My death upon the Cross; and as I am now, and for all eternity, in the glory of heaven. Come to Me in the Sacrament of My Love, and allow Me to draw you into My work, into My priestly intercession, and into My immolation as the Victim. This is the life I have chosen for you and for the sons I have given you: not one of much appearing, nor of much speaking, but one of obscurity, silence, and hiddenness; a real participation in My sacramental state.
Yours is the life of the Host: the continuation until the end of time of the self–emptying obedience by which I took flesh in the womb of My Virgin Mother, and went to death upon the Cross. The more you come to Me, the more will I draw you into My Eucharistic life and use you for the healing, and reparation, and redemption of many.
At every moment, from the tabernacles where I abide, hidden from the sight of men, I am making a priestly reparation to My Father, restoring to Him all that men, in their pride, ignorance, and blindness, refuse to offer Him; and I am repairing souls, souls broken and besmirched, darkened and infected, degraded and disfigured by sin. This is the great work of reparation to which I have called you. This is the work of reparation into which I will draw every soul, and particularly, every priestly soul, who comes to Me and adores Me in the silence of a living faith and of a burning love.
(In Sinu Jesu, The Journal of a Priest II)