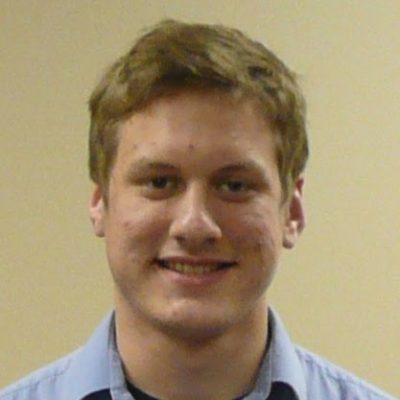 Mr Seth Borders, a 27 year old computer engineer from Ypsilanti, Michigan, was clothed in the Benedictine habit at Silverstream Priory in County Meath today, becoming Brother Thomas Aquinas. The son of Stephen and Ann Borders, Brother Thomas Aquinas is the youngest of six children. He graduated in 2012 from Kettering University with a degree in Computer Engineering.

As a novice at Silverstream Priory, Brother Thomas Aquinas will learn to live the 6th century Rule of Saint Benedict in 21st century Ireland. A lover of music and enthusiast of Gregorian Chant, the new novice happily sings in the monastic choir, spending five to six hours a day in prayer. At other times Brother Thomas Aquinas can be found working on the land, serving in the monastery kitchen, or applying his technological skills to the monastery's website and podcasts.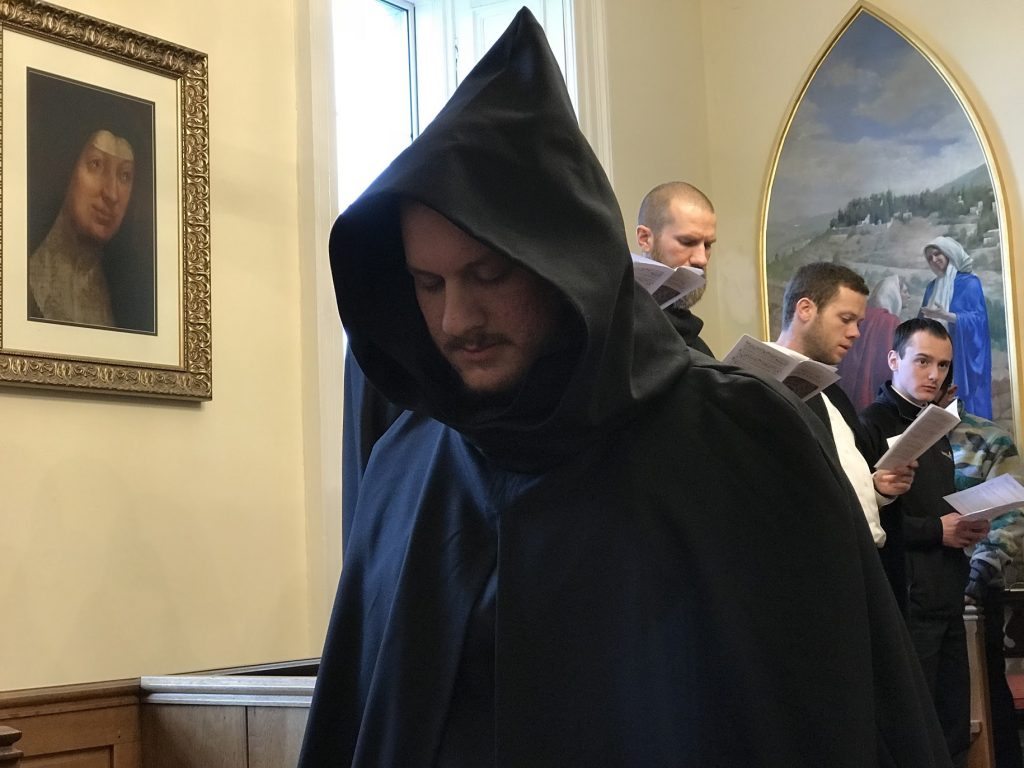 Father Prior delivered the following homily at the ceremony:
My dear son, some time ago, in a conversation about your vocation, you told me that you were drawn here to Silverstream Priory by adoration of the Most Holy Sacrament of the Altar. Last Tuesday, as I sang the poignant Gospel of the Votive Mass of Our Father Saint Benedict, I peered, for a moment, above the Book of the Gospel held open in front of me, and saw you there, and with you each of the brothers who surround you in choir. And the words of Our Lord took on an astonishing immediacy:
And every one that hath left house, or brethren, or sisters, or father, or mother, or wife, or children, or lands for my name's sake, shall receive an hundredfold, and shall possess life everlasting. And many that are first, shall be last: and the last shall be first. (Matthew 19:29–30)
People, upon hearing of your decision to enter Silverstream Priory, surely wondered what could have compelled you to leave your home in Michigan, your beloved family, your friends, and your work? You did not come to Silverstream Priory because you wanted to live in Ireland. Nor was it the Rule of Saint Benedict that drew you here; you had not yet discovered the Holy Rule and, in fact, knew little of Benedictine life. It was not the richness of the liturgical life; you might have found that elsewhere. Were you perhaps attracted here by the brethren?  We are, I think, it is a true, a congenial lot; we are blessed with a warm family spirit and marked by a special grace of fraternal charity, but these things, too, you might have found elsewhere. You did not come to Silverstream seduced by breathtaking landscapes and splendid architecture. You did not come here in search of any material advantage; here at Silverstream everything is poor, humble, and either in need of repair or waiting to be built.
Yours, dear Seth, is a patently Eucharistic vocation. I see in you a deep and providential affinity to Abbot Celestino Maria Colombo's desire to generate figli dell'Ostia all'Ostia, sons of the Host for the Host. There is, in your journey, dear son, a magnetic attraction to the Most Holy Sacrament of the Altar. You came to this monastery because the Host had become your lodestone. In praying over what I would say to you today, the words of the prophet Jeremias rose in my heart:
And they shall come, and shall give praise in mount Sion: and they shall flow together to the good things of the Lord, for the corn, and wine, and oil, and the increase of cattle and herds, and their soul shall be as a watered garden, and they shall be hungry no more. (Jeremias 31:13)
You, dear Seth, are not unlike the man of the parable who, having found a treasure hidden in a field, hid it again, and then, for the joy it gave him, went home to sell all that he had and buy that field. Again, you are like the trader looking for rare pearls: having found one pearl of great cost, he sold all that he had in order to possess it for himself. Your treasure is the Most Blessed Sacrament. The priceless pearl for which you are giving up all else is the Host. Your monastic vocation, Seth, is a matter of your heart needing to be where your treasure is. Do you recall what we sang on the day you were welcomed as a postulant? "Better is one day in thy courts above thousands! Blessed are they that dwell in thy house, O Lord" (Psalm 83:11, 5).
Remain faithful, dear son, to this initial attraction of yours, to the divine lodestone that by day and by night, be you waking or sleeping, pulls your heart to itself. The perfect monk is, in some way, the man who lives at every moment in readiness for Holy Communion. This Saint Benedict showed us in the hour of his death when, having received the adorable Body and Blood of Christ, he stood with uplifted hands before the altar and so passed into the possession of "things no eye has seen, no ear has heard, no human heart conceived, the welcome God has prepared for those who love him" (1 Corinthians 2:9).
The perfect monk, according to our father Saint Benedict, is the man who, having set his heart where his treasure is, prefers nothing to the love of Christ. This no abstract love, nor is it remote, nor invisible, nor intangible. It is — even as Isaias says concerning the word of the Lord — not above your reach, it is not beyond your compass . . . . It is not a secret laid up in heaven, that you must needs find someone to scale heaven and bring it down to you. It is as near as the tabernacle a few steps away in the Oratory. It is lifted up for your eyes to see; it rests, fragile and light, upon your tongue; it is an indescribable sweetness against the palate of your soul. It is the abiding real presence of God: hidden that you might seek and find Him; silent that you might find rest in His company; solitary that you might console Him, and poor that you might give Him something out of the poverty that is yours.
In receiving the holy habit, Seth, you are taking your place in a long procession of monks who, undaunted by the hard and rugged paths set before them, said with the psalmist: "I will go in to the altar of God: to God who giveth joy to my youth" (Psalm 42:4). There was not among them, nor will you find here among us a single man who did not cross the threshold of the cloister as one unclean coming to the fountain of mercy, as one blind coming to the radiance of eternal light, as one poor and needy coming to the Lord of heaven and earth.
If you have come to this monastery, dear son, it is because the hidden God, the Deus absconditus of the Prophet (Isaias 45:15) and the latens Deitas of the Angelic Doctor has drawn you to Himself. Serve Him, then, in your brothers, especially in those brought low by infirmity. Seek Him in reading and study. Find Him in prayer. Hasten to Him at the sound of the bell. Cling to Him in adoration. Sing to him and sing with Him until, by your humble efforts and by the grace of the Holy Ghost, He begins to sing in you and through you. Work for Him, knowing that no thing is mean or little in His sight, and that all the vessels and goods of His house are as the consecrated vessels of the altar.
Finally, dear son, give yourself to the Blessed Virgin Mary, not only today, not once, but ceaselessly. Our Lady has the gift of putting together all the fragmented bits we give her. She receives what is broken and makes it whole. Under her protection, your new life in the habit of Saint Benedict can become what God has already given you to desire: an unbroken act of adoration in the radiance of Him whom you have seen, whom you have loved, in whom you have believed, and upon whom you have set your heart.